Several years back, Naomi Nelson and Lou Doench were living in a loft-style, high-ceilinged industrial loft across from Old St. Mary Church in Over-the-Rhine. And at the time, it was a perfect setup for the young couple.
When they wanted to start a family, they moved north — to Northside – and into a 120-year-old home. Their new neighborhood was ideal since they'd still be close to downtown and the welcoming community offered affordable starter homes. Now 14 years later, their three kids have outgrown sharing bedrooms and no one wanted to live in the home's third-floor attic.
And so, their search for their next Northside domicile was on.
This time they wanted better use of space, including rooms for each of the kids, a separate office space, and to eliminate non-value-added space like attic/basement which just collected stuff. They were also entertaining the idea of sustainable living while embracing the design philosophy of aging-in-place. They found the perfect double lot right on Hamilton Avenue, two blocks from their current digs.
Naomi is an industrial designer with a local consumer product goods company and had a number of specific concepts and requirements for the home. She hoped for simple and cost-effective materials, but with modern features. Oh, and no view of the three-story brick apartment building to the south. After interviewing several builders, she and Lou chose SMP Design + Construction. The Blue Ash-based firm came highly recommended and like most architects and homebuilders in Cincinnati had experience with building a LEED home.
"Sound building practices will get you to LEED Silver," explains architect Aaron Kingsley of SMP. "Most of the credits are in energy efficiency, good windows and a well-sealed envelope." LEED homes have many credits that require improved ventilation such as humidity control fans in the bathrooms and return air ducts in each bedroom for lower carbon dioxide levels.
Since 2002, the city of Cincinnati has granted 10-year tax abatement on structures. In 2007, the city added an additional five years to the tax abatement for those receiving LEED Certification. In 2011, the tax abatement for Cincinnati LEED homes became a bit more layered and difficult. Now, owners must achieve LEED Silver to receive a tax break on the first $285,000 of the structure's value. LEED Gold has a limit of $565,000, and it's unlimited if you achieve LEED Platinum. Because of the tax abatement, nearly every new home in Cincinnati is LEED Certified and builders have become quite familiar with how to do it cost effectively.
When Naomi and Lou first heard about the U.S. Green Building Council's LEED (Leadership in Energy and Environmental Design) tax abatement, they thought it meant solar panels, something that wasn't in their budget. As designs and budget were refined and they realized they'd exceeded $285,000, they took another look at LEED. It didn't require solar panels and SMP Design + Construction showed it wouldn't significantly add to the cost. Naomi and Lou decided to take the leap to LEED and start building. Normally, improved drainage, added ventilation and very specific anti-mold building materials are typical improvements and have an easily understood value on their own. They hope to achieve LEED Gold, requiring 72 credits, out of a possible 110.
The definitely modern-with-a-twist home on Northside's major thoroughfare offers a matching close setback from the street. Even though the home is on a quite deep double lot, the Nelsons wanted to match the setback of neighboring homes and buildings.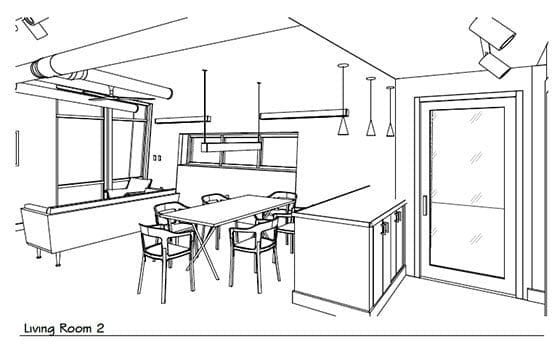 The home's whimsical twists are the sloped walls and columns used to add interest and drama to the mixture of textures. Think simulated fields stone, vertical siding, stucco and aluminum flashing. Imagine a traditional plumb framed wall. Create long wedges by cutting a 2-by-6 on the diagonal, flip them around and attach to both sides of the wall. It took the carpenters a while to get used to it, but it gives the home tremendous visual interest. Sloped ceiling lines are used to bring light further into the home.
Finishing touches included Forest Stewardship Council certified maple trim (the trees are harvested without clear cutting the forest and destroying the eco-system) with a clear-coat finish, black accent hardware and stainless steel staircase railing fittings. The interior aesthetic is part modern and part commercial. The architect found the perfect commercial light fixtures that fit right in with the design.
Naomi and Lou dubbed the new home "Wishful Thinking," a moniker that came from the initial "list-everything-we-wanted-meetings" that just stuck.
LEED for Homes
The LEED for Homes Rating System provides a basis for quantifying the benefits of green homes, thereby facilitating the widespread construction of more sustainable homes. One of the first steps in planning a LEED home is to adjust the certification thresholds based on the material and energy impacts. All else being equal, a large home consumes more materials and energy than a small home over its lifecycle. LEED compensates for these impacts by adjusting the thresholds for each award level. Thresholds for smaller-than-average homes are lowered, and thresholds for larger-than-average homes are raised. This home's threshold for LEED Gold is 72 points. A 4,500-sq.-ft. home with five bedrooms would be about 85 points. The Nelson/Doench home at 2,300 sq. ft. and four bedrooms is average.
In the end, the homeowner will have a well built and third-party certified home. Passing the blower door test alone is significant. Blower door tests are used to prove the air sealing quality of the construction. During the test the home is depressurized to -50 Pascal and measurements are recorded throughout the home to verify that outside air isn't leaking into the home at a rate higher than required. It proves the home won't be drafty and uncomfortable. Contrary to those builders who tell home owners that homes need to breathe for fresh air, it is much better to control the ventilation rather than allowing shoddy construction of leaky vapor barriers to supply fresh air to the home.
The LEED Certification system is broadly categorized into five equally important parts that demonstrate measurable environmental benefits: Site, Water, Energy, Materials, and Indoor Environment Quality. The following is a review of the features of this home according to the LEED for Homes system.
Prerequisites include building above the 100-year floodplain, not habitat for endangered species, built no closer than 100 feet to water or wetlands, land that wasn't a public park and land that doesn't have prime, unique or soils of state significance. Excavated topsoil was reused; runoff was controlled, so it didn't contaminate storm water sewers or erode hillsides.
The Location and Linkages category credits include benefits for locating the home in a walkable neighborhood demonstrated by having at least seven basic community resources within ½ mile. This home achieved exemplary performance for having 28 basic community resources within 1.2 miles, such as arts and entertainment center, bank, convenient store, daycare, fire station, cleaner, library, pharmacy, places of worship and schools. The highly desired urban location encourages walking, physical activity, and time spent outdoors.
The Sustainable Sites category of credits includes landscaping, which Naomi designed, includes non-conventional turf by using Turpin Farms 1785 mix and 97% drought tolerant plants such as Russian sage, lavender, black-eyed susan, hellebore, hosta and arborvitae. Since the provision and distribution of potable water is costly and energy intensive, particularly during dry periods, a more sensible strategy is to design landscaping that requires less potable water.
Energy and atmosphere benefits feature a Home Energy Rating System (HERS) analysis verification of the energy efficiency of the home. They are hoping for a rating of around 35, which will mean that their home is 65% more efficient than a typical home in Cincinnati. No ozone damaging HCFC refrigerants are used in the air conditioning system. Hot water lines were insulated to a minimum of R4. Structural Insulated Panels (SIP) of R48 were used for the roof, R38 is required by code. The 2×6 walls are R21.
Indoor environmental quality includes no unvented combustion appliances, space or water heating equipment. The Nelson home uses a tankless water heater. Prerequisites included bathroom and kitchen exhausts meeting ASHRAE Standard 62.2 airflow requirements, air is exhausted to outdoors with an Energy Star labeled bathroom exhaust. Contaminant control includes design for shoe removal and storage space near the primary entryway.
Awareness and education requirements include this article as part of the LEED Certification. It will be published online at Green Cincinnati Education Advocacy and the local USGBC's Chapter site once certified. LEED Signage was posted on the site. The homeowners will receive an operator and training manual as well as a one-hour walkthrough.
"LEED is a more rigorous Green Home standard," says Kingsley, "which requires third-party testing and isn't just a requirement to use specific materials." The additional five-year tax abatement offered by the city of Cincinnati is the deciding factor for many homes.
'We're looking forward to moving in and growing with the landscape as the icing on the cake of our 'industrial chic' home that reminds us of the OTR urban loft we loved so much before moving to Northside," Naomi Nelson and Lou Doench.
---

Get $30 off your Aptera Pre-Order
Click this link and you'll receive a promo code for $30 off an Aptera pre-order. The 2nd Generation Aptera launched Dec. 4, 2020 and is on track to be the first self charging electric vehicle. The two-person, three-wheeler is covered with solar panels which allow self-charging but  it also comes with a plug for charging. For every person I refer, I'll earn a $1,000 credit towards an Aptera. After referring 26 people, I'll score a free standard edition model. I'm a volunteer Aptera Ambassador, read more about this incredible solution to beautiful design and the ultimate in sustainability! Thanks for your referral, Chuck Lohre, Editor, Green Cincinnati Education Advocacy. #aptera #apteramotors