Had a great time at Greenbuild 2016 in LA the week before last. I'll share the highlights with you from an Eco Charrette I gave last week. Creating the Charrette was al lot easier because most of what I included from from the Greenbuild Green Building Marketing presentations. Enjoy.
Green Building options for the project we are working on.
The more you plan ahead the less expensive your choices are. We made our office LEED Platinum for less than $12 per square foot.
Google makes all of their offices LEED Gold and then goes the extra step to improve their employee's performance. It's 92% of an employer's investment in a company.
Google encourages employees to "Hack Their Space" by providing inexpensive overhead trusses for you to hang artwork, sound panels or plants.
Most lobbies of Green Buildings include both a water and a biophilic features.
LEDs can change the color of the light in your office to match the circadian outside lighting.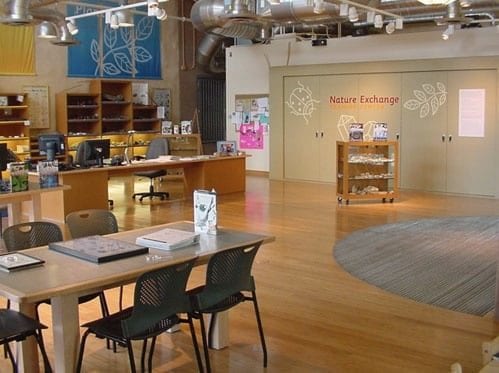 Spring Preserves' childrens' activity area, Las Vegas.
Reused objects, like this church door, adds character and can reflect the employees values.
It looks like a log out of place in the slick campus of the Aileron Think Tank, Dayton, OH.
Until it goes outside. Outside in and inside out is one of Frank Lloyd Wright's Organic Architecture principals.
Spring Preserve, Las Vegas, uses exterior sculptures to indicate the path of the sun during the year.
If you improve your employee's performance by 10 percent it will be worth more to the company than a net zero building. You can't change what you don't measure, check out LEED Dynamic Plaque.
WELL Building Standard includes Nourishment which means providing healthy snacks for your employees as well as providing a place for them to store fresh products from the local farmer's market.
WELL Building Standard includes a fitness track which can include encouraging walking or biking to work as well as taking the stairs.
WELL Building Standard includes mental stimulation such as beauty and workplace family support.
DLR's bank of large refrigerators to encourage employees to shop at the downtown farmer's market.
Innovative furniture at DLR encourages conversations with unique couch back counters.
Home for your laptop if you're a "Nomad," one with no home, at DLR Architects.
And each Nomad gets a locker.
The WELL Building Standard DLR Handbook.
Sometime you just need a place to hide and get some work done at DLR Architects.
Picking up on the deset climate, DLR's office plants could live outside.
The final presentation at Greenbuild 2016 was by Bjarke Ingels. His firm uses biophilic concepts, big data, countless models and computer design to point the way forward in creating man made ecosystems.
This project by BIG is an extension of New Yorks' High Line Park up and around a building at the end of the line.
The most inspiring work shown by BIG was this concept for a town in China. It is going to be built.
Get in touch if you would like to see the entire presentation adapted to your project. Lunch is on us.