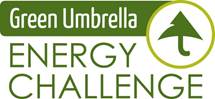 With winter in full effect, it is a great time to learn about the residential energy efficiency home improvement program of the Greater Cincinnati Energy Alliance. Available to all homeowners in Hamilton, Boone, Kenton, and Campbell counties, the Energy Alliance provides reduced-cost energy assessments, a roadmap for energy efficiency improvements, and financial incentives. You can also help "Green Cincinnati Education Advocacy" celebrate the energy saving improvements our team makes in the region by taking the Green Umbrella Energy Challenge and selecting "Green Cincinnati Education Advocacy" as your Green Umbrella affiliate.
What You Can Do – Compete in the Green Umbrella Energy Challenge
Green Umbrella and the Energy Alliance are challenging you to improve your home's energy efficiency and help the region around greater Cincinnati reduce energy consumption. Your collective efforts will help reduce the region's consumption of energy and reduce the stress on our environment and resources.
How An Individual Can Participate:
1 Identify Your Organization
The first step towards taking the challenge is selecting your affiliated Green Umbrella organization. Strengthen our collective impact by joining your colleagues in reducing energy consumption.
2 Request An Assessment
Once you have selected your affiliate, continue to request a home energy assessment to get started from one of our Home Performance Contractors.
 Reduced Cost Energy Assessment
 Pre-Qualified Home Performance Contractors
 Comprehensive Energy Assessment Report
3 Complete Your Improvement
Your selected Home Performance Contractor will provide you with an energy savings roadmap identifying energy efficient home improvements.
Program benefits:
 Upgrade Incentives Low-interest financing option
 Improved Comfort A Healthy, Safe Home
 Reducing Air Pollution Third party quality assurance
4 Multiply Your Impact
The Energy Challenge is a chance for you to have a positive impact on several levels.
 Personal impact: improve your home's energy performance, comfort, and savings.
 Organizational impact: help Green Umbrella and its member organizations in reaching an important goal for energy use reduction.
 Regional impact: help the entire Cincinnati/Northern Kentucky area by reducing the stress on the environment we live in.
For more information contact: Greater Cincinnati Energy Alliance 513-621-4232, i[email protected] or us.
(12-10-19 redirect from lohre.com)